Cover Letter Examples by Industry
Taking the first step toward writing a cover letter can be scary, especially if you're unsure about what to focus on for a particular line of work. Browse our collection of industry-specific cover letter samples and learn about what to zero in on your cover letter!
A persuasive cover letter is an important companion to your resume. My Perfect Cover Letter has examples to help you craft the perfect cover letter to land the job interviews you deserve. Our cover letter examples assist you with your opening paragraph, accomplishments, and key skills so you beat your competition. Explore our cover letter examples below.
6 Tips to Help You Perfect the Cover Letter Sections
Our cover letter examples highlight the six sections you must address to impress potential employers. My Perfect Cover Letter examples make it easy for you to personalize each section to keep hiring managers reading. Use our employer-tested templates and expert tips to easily write your cover letter sections.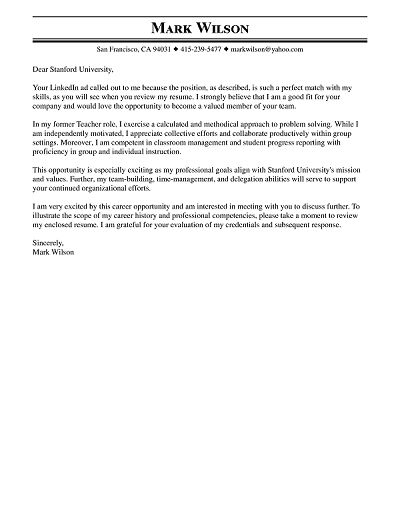 1

Contact information
Our cover letter examples format your contact information to quickly inform hiring managers on how to reach you. Among the important information: your full professional name, city, state, zip code, phone number email address, and date.
2

Salutation
Ditch the dusty "To Whom it May Concern" greeting. Instead, address it to the recipient or the company name. Our professional cover letter examples show you how it's done.
3

Introduction
In the first paragraph, introduce yourself to the hiring manager and explain how you learned of the position. Make sure the potential employer knows you are excited about the role. Our cover letter examples show you the appropriate ways to use this paragraph to build rapport with the recruiter.
4

Body paragraphs
The second and third paragraphs should provide the hiring manager with a brief overview of your skill set. This is your chance to tell the employer that you're perfect for the role. Our example cover letters help you artfully explain how your skills can help you excel at the job you want.
5

Conclusion
In the final paragraph, reiterate your interest in the job. Focus on what you can do for the company. Thank the recruiter or hiring manager for their time and consideration. Use our cover letter examples to earn effective ways to show some gratitude.
6

Sign-off
Use a simple, professional sign-off then add your name. "Sincerely" and "Respectfully yours" work well, but check out our cover letter examples for even more professional closings.
GET STARTED
Examples for Special Cases
3 Letter File Formats
Email cover letter: Our cover letter examples are perfect for email. We make it easy to send your properly formatted cover letter as an email.

Word doc: Word document is often an employer-favorite format. It's also great for you, as our cover letter templates can be sent to an employer without a glitch in formatting. Our cover letter examples work well with the applicant tracking system (ATS). The ATS friendly cover letter examples will have no trouble passing electronic scanning software.

PDF: Cover letters in the PDF file format are also favored by employers and ATS scanners. Our cover letter tools preserve your format, which makes for a stress-free submission.
Beat the ATS
An applicant tracking system (ATS) is a type of software that scans your application documents to decide if you're an ideal candidate. You can convince the mighty ATS robots that you've got the chops in two ways: using proper formatting and listing the skills they asked for in the job description.
We can help with both. Our builder offers professional formatting that won't confuse an ATS. We also offer industry-specific pre-written bullets to help you understand what the employer wants.
Customize Your Cover Letter
You pick a recruiter approved Cover Letter sample, we'll do the writing. It's so easy!
Choose a Cover Letter template
Insert pre-written text samples
Download, print and apply
CREATE MY COVER LETTER
5 Frequently Asked Questions
How do I make a universal cover letter for an entry-level job with no experience?
Start with an introductory paragraph to explain who you are, what position you wish to apply for, and how you discovered the opportunity. If a connection referred you, mention their name.
In your next paragraph, mention your relevant skill sets and accomplishments. Use the job description to help you write this part. You may not have job experience, but that doesn't mean you're not qualified for the role. Use this section to share your stellar talents. Expand on those you mentioned in your resume.
Wrap up the letter by reiterating why you'd be a great fit for the team. Thank the employer for his or her time and sign off with a handwritten signature.
What are cover letter examples?
Cover letter examples are what they sound like: sample cover letters that show best practices. Just like a resume example, a cover letter example provides a job seeker a template for creating the perfect cover letter. Good cover letter examples contain clear and concise formatting that is easy for job seekers to emulate.
Our cover letter examples provide more than just a template — they also provide tips, pre-written text examples, and industry-specific lingo. Check it out and you'll see a sample for every role from medical assistant to sales representative.
How do I write a cover letter example?
You don't have to write a cover letter example because we did it for you! Our cover letter examples show you what well-written professional cover letters look like. Use them to gain insight into your own cover letter creation. For more guidance, use our cover letter builder to wow recruiters.
Do cover letter examples use to whom it may concern?
To whom to address your cover letter, that is the question. You should never use the generic phrases "To Whom It May Concern" or "Dear Sir or Madam" when writing your cover letter. Instead, use the hiring manager's name if you know it. If you don't, do your research. If you find a name, precede it with "Dear" or "Hello." If you can't find a name, address your letter to the company itself.
What is a good format for a cover letter?
Use a format similar to the ones you see in our cover letter examples. Here's a basic format that works every time: start with your contact information on the left side of the page, add a salutation, write an introduction, craft one or two body paragraphs that argue why you're great for the job, close by reiterating your interest in the job and thanking the employer for their time, and use a professional sign-off.
Build Your Perfect Cover Letter Builder Today
In today's competitive landscape,applying for a job is stressful for individuals of all skill and experience levels. My Perfect Cover Letter Builder can take the worry out of a crucial process — creating the perfect cover letter.
The My Perfect Cover Letter builder offers customizable templates, pre-written suggestions, tips, and expert guidance for each section of your cover letter. We optimize each template for the ATS, meaning all the hard work you put into creating your letter has a better chance of landing on the hiring manager's desk.
Most importantly, our cover letter builder, along with our professionally written cover letter examples, can help you craft an impressive document that is sure to get your foot in the door. Take your cover letter to the next level, give the My Perfect Cover Letter Builder a try today.