You need a best-in-class cover letter to put your resume and job application at the top of the list. A professionally written cover letter will make your qualifications and personality shine. My Perfect Cover Letter's tools and expert guidance makes writing a cover letter easy. Read our tips below on how to write the perfect cover letter to make employers take notice.
Create My Cover Letter
5 Cover Letter Facts You Need to Know
Fact 1

Recruiters spend an estimated 20 seconds looking at each cover letter. As you can see, you have a limited amount of time to get your reader's attention and compel them to keep reading.

Fact 2

Whenever possible, address your letter to the hiring manager by name. It may take a little extra research on the company web site and LinkedIn, but it can make a big difference. Some recruiters will not read letters that are not addressed to them personally. If you can't find the name of the hiring manager, then address your cover letter to the company's name.

Fact 3

Mastering how to write a cover letter that you customize for each job can also increase your chances of getting past an applicant tracking system (ATS). Why? You increase your chances because most ATS search your letter for keywords just as they would a resume.

Fact 4

According to a 2016 survey of 1,600 recruiters and human resource professionals, 78% of job recruiters said that a candidate's enthusiasm affects hiring decisions. A cover letter is a perfect place to communicate your enthusiasm, possibly the only place before an interview.

Fact 5

Referred candidates are 10 times more likely to get hired than those who are not referred by someone within the company. If you know someone at the organization, make sure you mention it within the first few sentences of your cover letter.
6 Writing Tips to Perfect Your Cover Letter Sections
The key to writing a cover letter is striking the right tone and showcasing your skills and accomplishments in an interesting way. You need to organize your cover letter into six sections that show the hiring manager why you're a good fit for the job. My Perfect Cover Letter can help you cover all bases. Using our step-by-step guidance, you'll perfect all six cover letter sections. Here are our top tips on how to write your cover letter sections: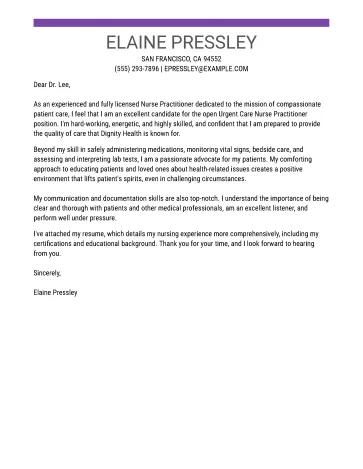 1

Tip 1
Set a Professional Tone
Your contact information should never include an unprofessional email address like "bigdog1@," or "littlenicky@". Nicknames and clever email address scream out unprofessionalism. A professional email address and accurate contact information sets the tone. Get this wrong and you're unlikely to get that call for an interview.
2

Tip 2
Personalize Your Greeting
You should start your cover letter with a professional greeting followed by a comma or colon. Never begin the salutation of your cover letter with "To Whom It May Concern." Get personal. Address the hiring manager by name. My Perfect Cover Letter offers even more tips to help you best address your letter.
3

Tip 3
Wow Them With Your Opening
Don't waste the first line of your cover letter with a boring, generic opening. Start your cover letter with a compelling introduction to immediately catch the recruiters' attention and cause them to want to read more. Use our cover letter samples and examples to see what an eye-catching introduction looks like.
4

Tip 4
Sell Yourself
Avoid rehashing your resume in your letter's body paragraphs. Instead, focus on specific examples and personal stories from your work experience that expand on your qualifications. In three to four short paragraphs, the body of your cover letter allows you to expand on some of your important skills and accomplishments mentioned in your resume.
5

Tip 5
Walk-off Leaving Them Wanting More
The conclusion of your cover letter should wrap up your message. Reaffirm your enthusiasm for the job and thank the hiring manager for their consideration in your closing paragraph. Let them know you'll follow up and the manner in which you'll do so.
6

Tip 6
Close on a Professional Note
Finish your cover letter with a professional sign off like "Sincerely" or "Respectfully" and sign your first and last name. A formal closing followed by a handwritten signature is the best way to end your cover letter and make a lasting impression. These days, most computer programs allow you to upload a signature.
GET STARTED
Customize Your Cover Letter
You pick a recruiter approved Cover Letter sample, we'll do the writing. It's so easy!
Choose a Cover Letter template
Insert pre-written text samples
Download, print and apply
CREATE MY COVER LETTER
5 Steps to Personalize Your Perfect Cover Letter
STEP 1 CHOOSE A TEMPLATE
Choose a template based on the job's industry and your experience level. My Perfect Cover Letter makes it easy to pick a template specific to the position you're applying for.
CHARISMATIC
PROFESSIONAL
BOLD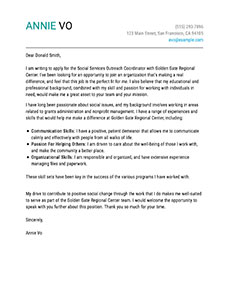 STEP 2 HEADER
Next, correctly enter your contact information so the hiring manager can easily contact you. Our templates will show you how it's done.
PROFESSIONAL

STEP 3 INTRO SUMMARY
After that, write a compelling introduction that encourages employers to keep reading. See our templates for more help.
CHARISMATIC
Dear Hiring Manager,
As an experienced Accountant with over five years of experience, I am eager to apply my strong accounting background, ambition, and organizational skills to the position of Accountant at Nordstrom.
PROFESSIONAL
Dear Ms. Bell,
As a marketing professional with over ten years of experience and a track record of success, I'm excited to see your Marketing Director opening. I am confident that my background makes me a perfect fit to play a key role with Apple.
BOLD
Dear Amy J. Pickerel,
Looking for a star salesperson who knows how to dramatically improve the bottom line? I'm confident that my background fits the bill. I offer over four years of proven sales and management experience in the Technology field, a successful track record of building strong customer relationships, and a history of outstanding results.
STEP 4 BODY PARAGRAPHS
After that, start the paragraphs of your letter. Use our tips and suggestions to include industry-specific points that you may have forgotten.
CHARISMATIC
Dear Anna Padilla,
I am writing in response to the advertisement posted for Software Engineering position with Google. As an experienced software engineer with expert knowledge in Java and C++, I feel confident that I am the right person to help Google reach the next level of success.
I offer 3 years of development experience, a strong aptitude for learning new technologies, and a proven track record of meeting aggressive goals. My most notable skills include :
Software Development: I bring over 3 years of experience developing software for multiple clients in various environments. I possess solid knowledge of software design.
Project Management: I have been successful in providing high-level technical direction to drive projects from conception and design through QA and deployment.
Communication Skills: I am comfortable communicating with technical and non-technical employees throughout the company in order to complete projects and achieve organizational goals.
PROFESSIONAL
Dear Principal Skinner,
As an experienced high school teacher, I have developed a passion and personal commitment to helping my students succeed. I feel that my background as an educator is a perfect match for the open Chemistry Teacher position at San Jose High School.
In my most recent teaching position at Fresno High School , I developed highly effective lesson plans, motivational exercises, and performance assessments. I've helped improve test scores, and have received positive feedback from parents and fellow educators alike for my abilities in the classroom. My teaching style demonstrates dedication to fostering a positive learning environment to all students and maximizing individual student performance. The accomplishment I'm most proud of in my teaching career is increasing the number of students taking AP Chemistry.
BOLD
Dear Matthew Gillock,
As an experienced Accountant with over 4 years of experience, I am eager to apply my strong accounting background, ambition, and organizational skills to the position of Accountant at JP Morgan.
During my time at Chase Bank, I gained valuable expertise in a range of accounting and financial management functions, including accounts payable, accounts receivable, and billing. As part of my growth, I trained and directed a team of 10 junior accountants. I also pride myself in being a team player, always providing detailed analysis and feedback, and finding and eliminating financial redundancies.
In addition to my professional experience, I hold a Bachelor's from Stanford, and make every effort to keep my knowledge of finance and the accounting industry fully up to date.
STEP 5 NOW IT'S TIME TO CLOSE AND SIGN OFF
The best way to do this is to reiterate your assertion that you're a good fit for the role, thank your readers for their consideration, and use a professional sign-off. "Sincerely" is a safe choice.
CHARISMATIC
I am confident that my strong set of clinical skills and experience would serve me well as a member of your dental team. I would welcome the opportunity to speak with you further about this position. Thank you for your time and consideration.
Sincerely,
Joe Mercer
PROFESSIONAL
I am confident that my combination of talent and ambition would be a valuable asset to Apple, and I'd appreciate the opportunity to speak with you further. Thanks for your time, and I look forward to hearing back from you.
Sincerely,
Maria Sanchez
BOLD
My drive to contribute to positive social change through the work that I do makes me well-suited to serve as part of the UCSF team. I would welcome the opportunity to speak with you further about this position. Thank you so much for your time.
Sincerely,
Tom Donaldson
Review your cover letter to catch mistakes. Our cover letter builder will identify common spelling and grammatical errors so you can submit a error-free letter with your job application.

Download Lastly, once you're finished personalizing your cover letter, simply download it in the employer preferred cover letter file format. You can save it, email it or upload it your job application as a Word doc, PDF or plain text file.
Templates to Consider When Writing a Cover Letter
Let's take a look at some cover letters. These five cover letter templates are industry-specific. However, you can adapt their best lessons about how to write a cover letter to nearly any field. See the lessons that you can learn from each template.
3 Insights to Crafting a Perfect Cover Letter
Review the perfect cover letter below and uncover insider advice that we've gleaned from helping users over 10 years get the job they want with a cover letter that impresses hiring managers and recruiters. Click the show button within each section to reveal the insider information.
mauramc@imail.com | 415.867.5309

Dear Executive Chef Angela Davaros,

1. HEADER - Personalization

Notice how this cover letter is addressed to the hiring manager. Our jobseeker took the time to learn her potential boss's name before writing the letter. This shows that she cares and pays attention to details.

I first tried Stella's Sensational Steakhouse in 2018, when it first opened. After the first bite, I fell in love. Over the years, I have visited Stella's at least once a month and gotten to know your wonderful servers, like Matt and Karen. Imagine my delight to learn that you are now seeking an experienced, passionate sous chef. I am convinced that my professional background and enthusiasm for cooking makes me the ideal candidate to fill this role.

2. SUMMARY - Story Telling

A great way to learn how to write a cover letter that hiring managers actually read is to practice creating a story. See how our cover letter starts by explaining how the jobseeker came to hear of this restaurant and why she loves it so much. This proves that she is enthusiastic and might make a great hire.

You need a sous chef who has experience managing a large kitchen. I worked as a sous chef the Las Vegas strip restaurant Onyx for four years; during that time, I filled in for the head chef while she was on maternity leave. Though it was an intimidating professional leap, the kitchen thrived under my leadership. I facilitated the creation of two new dishes, and they were so popular that their sales led to an overall restaurant revenue increase of 10%. Also, I hired three line cooks. Under my mentorship, all three stayed for at least two years and one was promoted to sauté chef.

I understand that Stella's Sensational Steakhouse is a fast-paced environment that requires superb attention to detail. I thrive in such atmospheres. Before Onyx, I worked as a line cook at Braxton in New York City for four years. As noted in the New York Times review, Braxton is the most fast-paced high-end restaurant in the city. In the time that I was there, I trained 10 new staff members, strengthened communication between the servers and the kitchen, and helped create Braxton's famous secret sauce.

Thank you for your consideration. I would welcome the chance to talk to you and learn more about the sous chef position.

Respectfully yours,

Maura McAllister

3. BODY PARAGRAPHS - Relevance

It's important to refer to the job description in your letter. See how our cover letter example addresses the job description then explains how her experience goes beyond the required history. This type of information makes it easy for employers to imagine working with you and determining if you are a good fit for the job.

Insert data wherever possible to demonstrate your value. Show that your efforts make a difference at work. Revenue is the best way to prove your worth, but it's also wise to mention the number of people you trained or the number of projects you worked on in a given time frame. At some point, argue that you're a good culture fit as well. Read the company's mission statement and values to get more insights as to what this might mean.
Recruiter-friendly Cover Letters
When crafting your cover letter, it's important to consider applicant tracking systems (ATS). The ATS is software that scans your letter and resume for keywords that correlate with the skills mentioned in the job description. Many job seekers don't move forward in the application process because of the ATS. However, My Perfect Cover Letter will help you easily build a perfect cover letter that gets past the ATS and into the hands of a recruiter.
Cover Letter Writing Frequently Asked Questions
How do I write a cover letter to an unknown person?

If your best internet sleuthing efforts fail to reveal the name of the hiring manager, you address your cover letter to the company. Our templates show you exactly how to address your letter in this situation.

How do I write a cover letter to an overseas employer?

If you're applying for a job overseas, remember that various countries have different expectations for cover letters. Before starting your letter, research how to write a cover letter in the country you're seeking employment from. See our many templates to find one that best fits the country's requirements.

How do I write a cover letter when I have no experience?

If you don't have any experience for the job you want, still include a cover letter. Instead of work experience, write about skills and accomplishments gained from academics and club participation.

How do I write a cover letter for Microsoft Word?

Once you finish customizing your cover letter with My Perfect Cover Letter, you can easily download the letter as a Microsoft Word document. From there, you can open it in Word, or simply email it to the hiring manager or submit it with the rest of your application.

How do I create a cover letter template?

With My Perfect Cover Letter, we already made templates for you. You can easily customize our templates for the job you're applying for. Start by choosing a template that corresponds with the job's industry or the design that best fits your needs and enter all of your information.
Write a Perfect Cover Letter with Our Builder
Whether it's your first time seeking a job or you've been a professional in your industry for a long time, My Perfect Cover Letter is the best place for job seekers to make customized work documents. We'll be there for you every step of the way with expert advice.
Our employer-tested templates are designed to be easy to customize for every job.
We offer employer-tested templates to impress hiring managers.
Our pre-written bullet points were crafted by career experts to help you say the things employers want to see.
You can use our builder's expert guidance to get through the ATS and catch the attention of a hiring manager.